For many agencies, this is a department
For us, it's a way of life.
Why All Businesses Should Go Social
Now more than ever, social media has become fully incorporated into our online experience. Millions of people canít get through their day without scrolling their Facebook News Feed, sending out a tweet and uploading a picture on Instagram. While the online marketing landscape sees constant changes, social media proves to be a permanent platform that shows no signs of slowing down. Social media has revolutionized the way we communicate. As long as thereís internet access, itís possible to reach and chat with friends regardless of where they live in the world.
For businesses, this presents a unique opportunity to establish a global presence. Having an additional channel through which you can attract more targeted customers and build lasting relationships with existing ones can benefit all businesses across a wide range of industries.
The value of social media is the trust created through real people engaging in a real dialogue. Also, search engines look at social signals to help rank site authority, but it's also where your customers hang out online, talk to their friends or peers, research purchases and make decisions to buy.
of customers expect businesses to be active in social media
In short, failing to create a social presence for your business means losing out on fans, leads and revenue. But setting up a social media marketing campaign isnít as simple as creating accounts in different social platforms and promoting your products or services. There are plenty of things that contribute to how much you can get the most out of the social web.
As a Toronto-based social media marketing agency, Innosouls can help you kick start your campaign and put your business in the best position to engage and attract more customers through social media.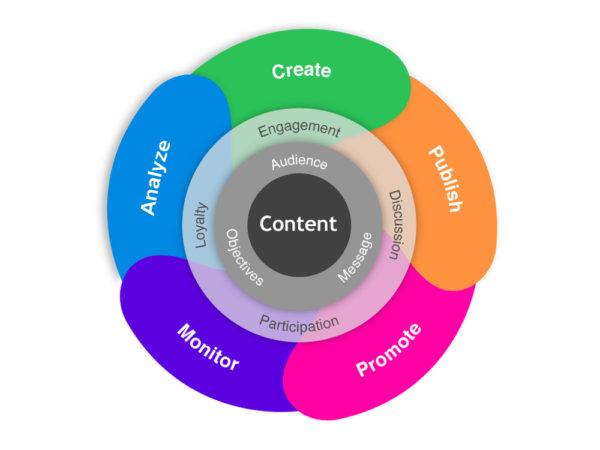 Social Media Strategy
Have you already allotted a portion of your marketing dollars for social media marketing services but you just do not know where and how to start? Innosouls can lend you a helping hand and ensure that you get the best returns for your investment. Based on the unique needs of your business, we will identify the right social platforms to use and come up with campaign strategies that lead to social media success over the long term.
Content Strategy
One of the biggest mistakes plenty of marketers make is being overly promotional on social media. Keep in mind that online consumers love communicating through social media, so thatís exactly what you must offer. The content you share must spark a conversation and engaging prospective customers and build your brand. An effective content creation strategy must be put in place to ensure that you keep followers engaged.
Social Listening
You can't be a good friend if you don't know how to listen. In the world of business, the same holds true – brands who listen have the most customers. Through social listening, youíll see where your brand name gets mentioned in various social platforms. This also includes monitoring your social campaigns and finding out what customers have to say about your brand, your competitors and other topics of interest.
Competitive Analysis
Is there a particular business that dominates all others in your industry when it comes to social media marketing? Perhaps they create amazing videos, publish high quality blogs or interact with their followers seemingly 24/7. Innosouls can help identify the exact tactics they use and determine how you can capitalize on them to improve your social presence and give the competition a run for their money.
Relationship Building
Today brands have an opportunity to build rich relationships with consumers and shoppers. Social media makes it extremely simple to find and connect with people and build relationship with your customers. By engaging and communicating, you can build relationships with your customers. Innosouls can help you in identify your customers and your brand advocates and provide your audience with information they are looking for and engage in conversations.
Social Media Advertising
The major social networks also allow brands and publishers to promote ads to your targeted audience. This is an excellent way to generate leads quickly and efficiently, as long as you set the right parameters and convert the right people. Innosouls can help you set up sponsored ads, create compelling ad copy, craft an effective call to action, build a high-converting landing page, and monitor conversions.
As a Toronto based company Innosouls will set you on the right track for successful campaigns in all major social media platforms. Give us a call
(888) 844-8264
or
Contact us
today and equip your business with a comprehensive strategy that guides you through every step of the social media marketing process.