You deserve more than just traffic
Get more out of every click.
Why Pay-Per-Click Advertising?
Pay per click advertising, commonly referred to as PPC, has been a centerpiece of online marketing for over a decade. It's consistently delivered strong returns on your advertising investment, and as technology has marched on it's simply spread into new mediums and formats. Today pay per click services cover not only the major search engines (Google, Bing, etc) but also social networks like Facebook, Twitter and Instagram offer paid ads because mobile devices are now a part of our lives.
The great strength of PPC advertising is that it allows you to match your promotional message to the most receptive audience possible with exquisite precision. If you are business looking to target local consumers, PPC ads are an outstanding way to do it.
We help our clients promote their brand with exceptional reach. Innosouls's PPC Management team in Toronto is 100% Google AdWords certified, which means that every member of our PPC team is an expert with deep understanding of all complex details and knowledge of the latest new products.
Innosouls is a full-service digital marketing agency that can help you with all aspects of promoting your business online, and that includes providing unbeatable pay per click management services.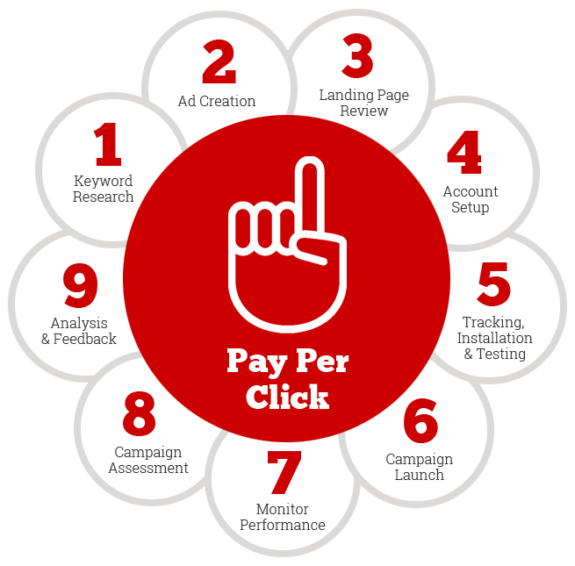 Planning
Although there are certain effective techniques that can be used in any pay per click campaign, for the best outcome you need approach tailored to the specific needs of your business. That's why we start the process with a thorough profitable marketing strategy. You can't make a sale unless your prospects know you exist
Strategy
We then start mapping out a PPC strategy that will pay off for your business. Even at this early stage, we like to start zeroing in on objective progress metrics that you can use to measure the effectiveness of our pay per click management services over time.
Landing Pages
You have to let your visitors convert. We'll take the time to construct persuasive landing pages for you that deliver excellent conversion rates. This is an ongoing process; we'll continue to tweak your landing page designs as we gather more information in the course of our paid search campaign.
Discovery
Our first step is to gather information on your business, your customers, and your existing website. This useful data is collected into permanent documentation that can be referred to – by our team or by your own employees – at any point in future marketing efforts.
Keyword Research & Analysis
We go the extra mile in our keyword research. We want to uncover every possible search term that would deliver good value for you if incorporated into a PPC campaign. A strong effort in keyword analysis translates directly into access to a larger audience of responsive customers once your campaign goes live.
Building Better Campaigns
With PPC ads, you're paying good money for access to the most promising potential customers. Innosouls doesn't want to see your money wasted. That's why we take the time to craft unique marketing campaigns that will help you getting ROI from pay per click advertising.
These services are only part of professional pay per click management. They take the hassle out of getting a campaign rolling, and working with a leading Toronto PPC management agency will ensure that your campaign gets off to a strong start.
Social Media Advertising
As we learn more about your customers, we can expand your campaign and get even more precise and targeted to those individuals who are most likely to do business with you. This often means expanding into social media paid ads. Today sites like Facebook and Twitter offer advertisers a tremendous amount of data on user demographics and behavior. We can use this data to target the right audience and design ads that will capture your customer's attention.
Pay per click advertising can be one of the most powerful promotional tools available you. Meet these opportunities with the professional skills you need in order to get the very best results, achieving your marketing goals is always easier with an experienced agency like Innosouls on your side. Interested in learning more about how we can improve your PPC Advertising? Feel free to reach us at (888) 844-8264 or contact us.